Joined

Nov 13, 2010
Messages

6,043
Reaction score

4,961
Points

363
Location
Look what I got!!
Another Craigslist bargain. They were asking $250, BJ offered $200 and they took it. I am good at finding the bargains, BJ is good at getting the price down.

This will keep me from being all bent over and having an aching back!
Ridgetop, from BYH, and her husband came over, they are camped in Weatherford, TX about 2 1/2 hours from here. They are from California, it is so awesome to actually meet them! We had quite the party. Our husbands sat comfortably ensconced in their outdoor chairs, watching their wives having fun. I got to use my stanchion!
We ran the sheep in the chute and 1 at a time, haltered and dragged them up on the stanchion. Needless to say, they were less than thrilled. They laid down, attempted to jump over, under, sideways, upside down, collapsed and were downright uncooperative. Fancy that!
Ridgetop showed me how to shear and guided my tentative efforts. I was afraid I would cut them. We got those "BAD TOUPEES" sheared off!
This is Eve, born on New Year's Eve, she is a second freshener. She is nice ewe, Dorper and Katahdin mix.
I had so much fun learning how to shear and not wind up with a carcass hanging up for butchering. My Sheep survived! I did not cut off a finger either!
The shade from the huge cedar tree was most welcome in the heat. A breeze blew most of the time.
Since we had them up there. I trimmed feet. Moon Pie thought that was a terrible idea and kept jerking her feet, resulting in me stabbing myself at the base of my thumbnail. After that, washing up, a bandaid and gloves seemed like a pretty good idea.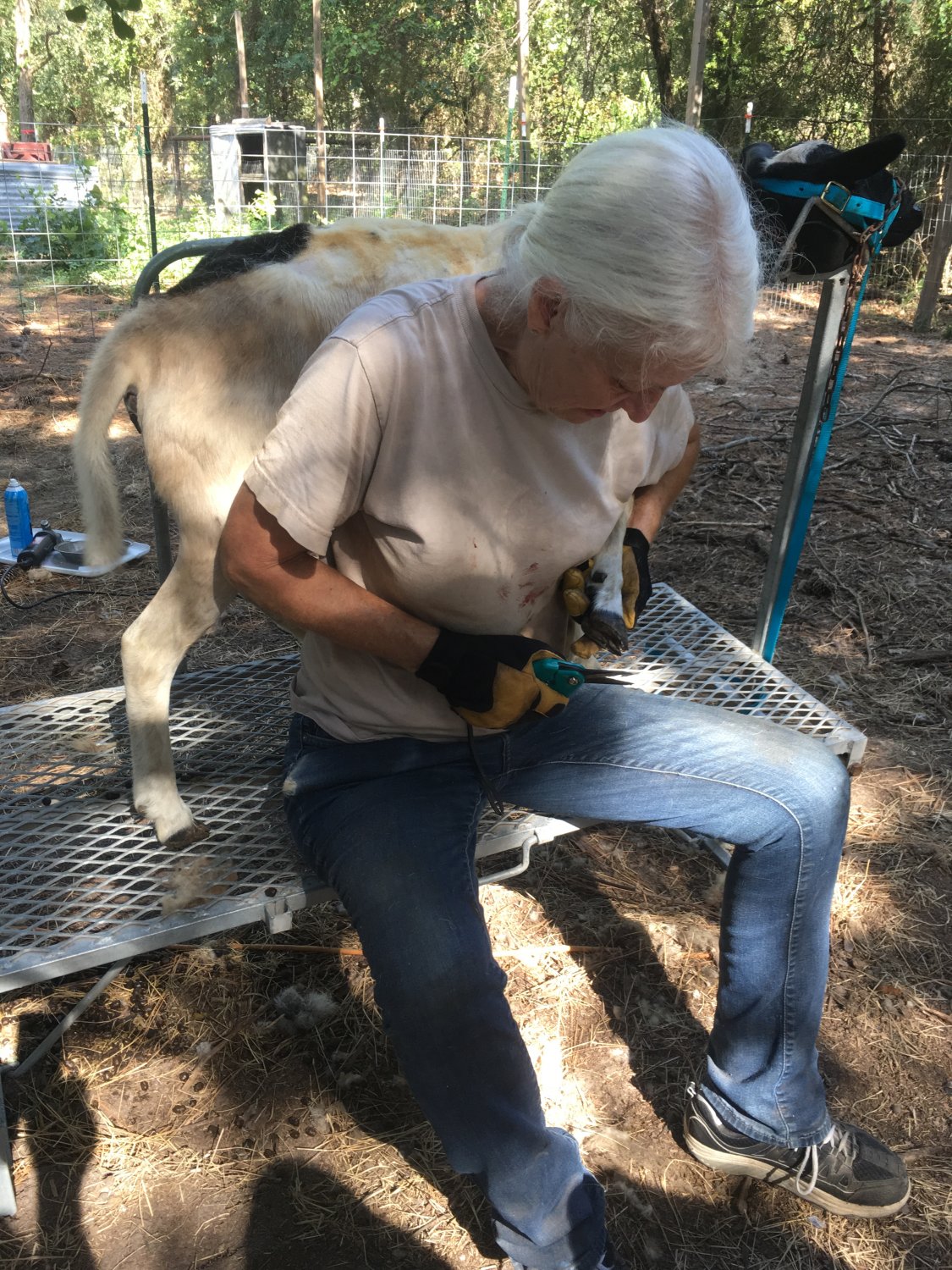 Ridgetop and I got pooped and peed on, at one point pee was dripping down her arm and my husband, ever the gentleman, kindly wiped it off. I got kicked in the ribs. I was filthy, poopy, blood on my shirt, I woke up with a myriad of interesting bruises. Gosh we had FUN!
We only sheared 5 Sheep, the lambs going to slaughter can keep their BAD TOUPEES.
I am in good health and in good shape, but my left knee is worn out and hampers my activity at times. I cannot squat or kneel, it is painful. This stanchion places the sheep at a level that makes it much easier to work on them.
I thought about you,
@Beekissed
. Something like this would help you with your sheep. I know you are resourceful and craft useful things out of stuff other people throw away. Put on your thinking cap, you need something like this for trimming their feet.