Joined

Nov 13, 2010
Messages

9,376
Reaction score

13,399
Points

393
Location
Here we go! Got two guilts today, Hampshire and Yorkshire cross. I've been looking, people sure are proud of their pigs this year. Finally found these an hour and half away and we went and got them.
Sentry is in a pasture, not against the new Pigs, but he knew he didn't like them. He barked st them. I didn't want a night of him hating and barking at the pigs all night, so I put him on a leash and we went to meet the pigs.
He snarled. I shushed him. He was on full alert, deeply growling. I kept talking to him, reassuring him, telling him, MY PIGS, NO. MINE. The pigs of course, were scared and slowly grunted their way toward us. Closer. Closer. Sentry boomed a BIG BARK and lunged st them. Pigs ran, I pulled Sentry back. Over and over, but at least he's met the pigs and knows what they are. They will never be friends but maybe he won't bark all night at the pig monsters.
@frustratedearthmother
he reminded me so much of Cowboy and your AGH pigs. I was smiling, watching my defensive body guard protecting me from pig monsters and thinking about you.
The girls.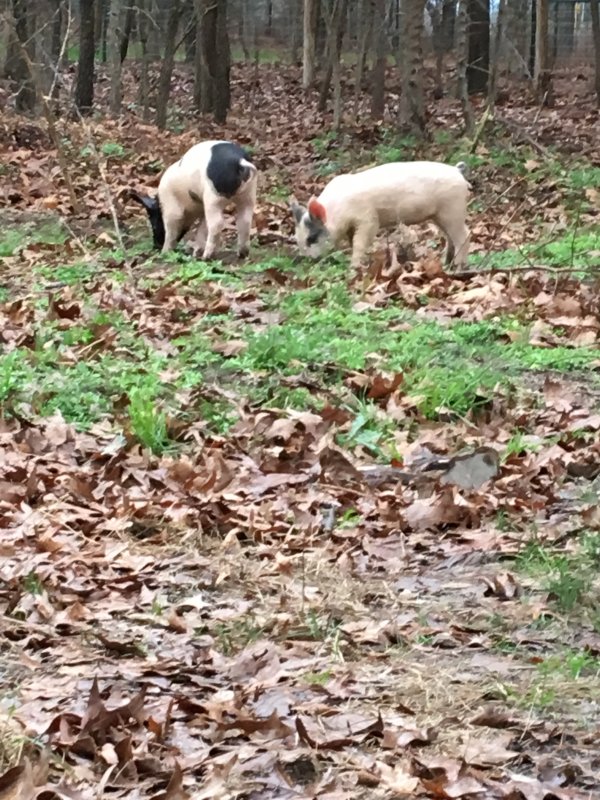 Sentry guarding me.