Joined

Nov 21, 2011
Messages

1,284
Reaction score

318
Points

227
Location
I had to do some tree trunk and limb cutting when I was at the end of some sort of food poisoning or stomach flu… in any case, I was very weak. My usual chainsaw (a Stihl with an 18" bar), which isn't really all that big, weighs a bit over 16 lb with oil & fuel in it. Holding and carrying it, along with lifting logs, was quickly wearing me out. So I borrowed my neighbor's Husqvarna 120i for cutting logs on the ground. Wow, was using that a relief! I could actually work long enough to get something done.
So I went and bought one when it was "on sale". (I may be late in the game of owning a cordless, so there's no obligation for you to read my post here.) This one weighs about 7
1/2
lb with a full chain-oil chamber, has a 37-volt Lithium battery, a brushless motor, and 14" bar. I find it to be well balanced. The saw is made so the chain can be tensioned by hand without any tool, and the chain cuts efficiently as long as it's sharpened. Seems to generally give about 45 minutes of service on a charge.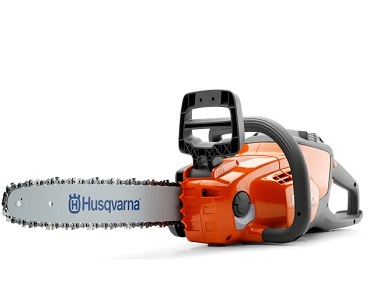 Apart from any specific brand & model, I like recent cordless electrics in general, for some obvious reasons: most are lighter in weight and more compact. They're low noise (as compared with any 2-cycle gas saw) and smokeless. It's also much safer to take one up a ladder, say for pruning, because the chain doesn't move if you don't pull the trigger with the power switch on. Neither do you need to pull a start cord, which can be an awkward and even dangerous move on a ladder.
My little saw doesn't replace my workhorse gas-driven saw for hard work. But with firewood trees, it's very handy to use for cutting branches, or even for cutting dense softwood logs up to, say, 6" diameter. The key there is the narrow-kerf cutting chain. The saw is also good for odd tasks like rough-cutting 2x6, 4x4 etc.
Last edited: