Joined

Jul 17, 2017
Messages

6,020
Reaction score

6,809
Points

307
Location
This year was the worst I can ever remember fighting fleas. We tried so many products between two households to try and rid our dogs of fleas. On a whim I happened to come across an organic totally none poison product that actually works and it doesn't smell all that bad either if you don't mind clove smell like a dentist office.
What I did that worked...
1) Bath out dogs in Palmolive orginal (green) once a week. I would work up a good lather and have our dogs wait for a few mins then rinse them clean and call it done.
2) After they were completely dry, I would spary them down well with Vets Best Flea + Tick home spray and use a comb to make sure I got good coverage.
3) In-between weekly baths of Palmolive orginal (green) I would spray our dogs down twice a day once in the morning and again in the early evening with Vets Best Flea + Tick home spray.
4) A few times a week I would spray all the carpeting and furniture down with Vets Best Flea + Tick home spray.
It wasn't two weeks of steps 1 ~ 4 and our flea problem disappeared. Vets Best Flea + Tick home spray is some great stuff! But just because your flea problem is gone, keep up steps 1~ 4 so they don't come back!
Anyways I talked to our vet and he said fleas are developing resistance to a lot of the chemical products thus rendering them ineffective including collars.
I thought I would let you all know what I figured out and a solution that's safe and effective.
You can find Vets Best Flea + Tick home spray all over the internet and also at many farm stores. Here's what the spray bottle looks like. BTW also safe for cats to, my daughter has two indoor cats that she also used steps 1 ~ 4 on and it got rid of the fleas on them also.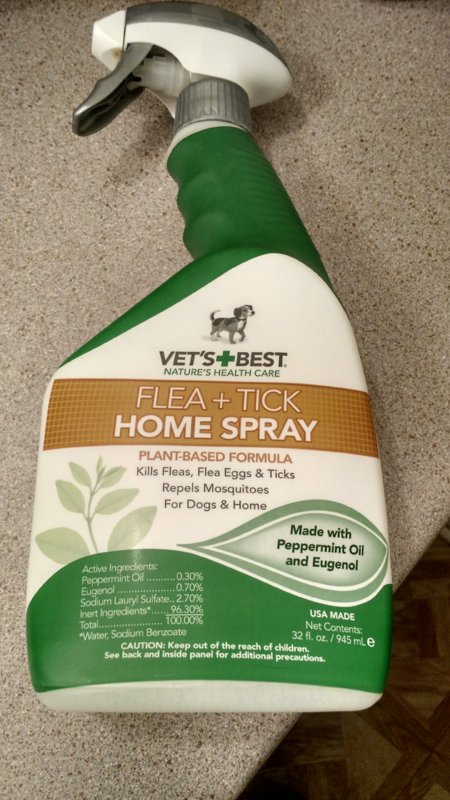 Thanks
Last edited: