Joined

Jul 17, 2017
Messages

5,247
Reaction score

5,645
Points

297
Location
Here is a much cheaper version of a OktoberFAST festbier. Oktoberfest fermented ale yeast Fermentis Safale S-04 instead of traditional lager yeast. It will go from grain to glass in 4 weeks if you bottle. Or in less than 2 weeks and a few days if you keg.
I just priced all the ingredients (malt, hops, yeast) came out to less than $25.00 shipped to my door. This 6 gallon recipe will yield approximately 64 12 oz bottles and cost about $.40 a bottle including bottle caps but minus the bottles. There just might be a business model around this festbier. I could brew up 15 gallon batches for a 1/2 barrel and serve pints on tap for even less cost because I get discounts for ingredients when I purchase in bulk. Or I could serve in 1/2 gallon growlers and do exchanges (refills) also. But I haven't costed the price of growlers. IDK lots of options here...
6 Gallon Batch Recipe - Yeast is Fermentis Safale S-04. Primary ferment for 7 days @68F, rack into secondary for 7 days @68F. Then bottle or keg. Easy Smeazy... Yum... Enjoy.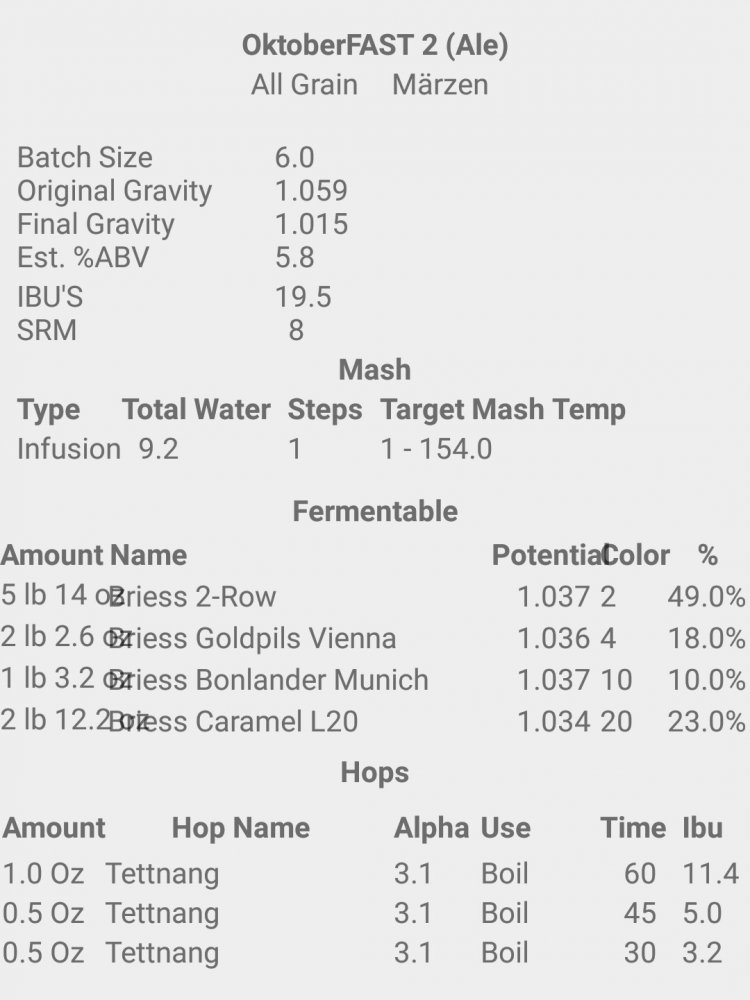 Mash schedule