Joined

Jul 31, 2017
Messages

1,308
Reaction score

1,532
Points

217
Location
I've got to share!! I'm praising the Lord tonight for answered prayers, and for providing for us over and above anything I've expected or even asked for!!


I've recently been thinking a lot about sewing as a side income. I've sewn simple things, and can follow a pattern. I have a friend who lives close who used to sew wedding dresses, and two in another state who both sewed for income. One had her own sewing and alteration business. All are willing to help me learn.
The friend with the sewing and alteration business is retiring and has been cleaning out her basement... by sending the supplies and materials to me.


I'll be sending her some money, but she's intent on setting me up right. For me this is a huge blessing as this will allow me to work from home while still being there to help my husband and son with their medical issues. The timing couldn't be more perfect. She is also happy to be able to pass on a lot of her stuff as her husband is on hospice, and she has been drastically downsizing. She has been setting aside a LOT of things she had started (much of it already cut out and pinned, but not finished.)
I've received 4 boxes in the mail so far this week, plus half a truck load the last time I was there to visit. So I'll be watching for a better sewing machine and a surger, but I'll be set up to start soon.
For me, and for my friend, this is an answer to prayer for both of us. It's a sharing of knowledge and skills and materials from friend to friend, but also from one generation to another. The end of her business will be the start of my own, and I'll pick up right where she left off on many projects. And this fits right into our desire for me to be able to work from home. I'm also excited to be starting a trade that has been passed on from woman to woman (and often men too) from generation to generation, probably as far back as Adam and Eve's fig leaves...
Here are just a few of my beginning supplies, with much more to come:

Little girls dresses and some corduroy outfits with matching pants (also a box of little boy and girl outfits), sizes 2-6: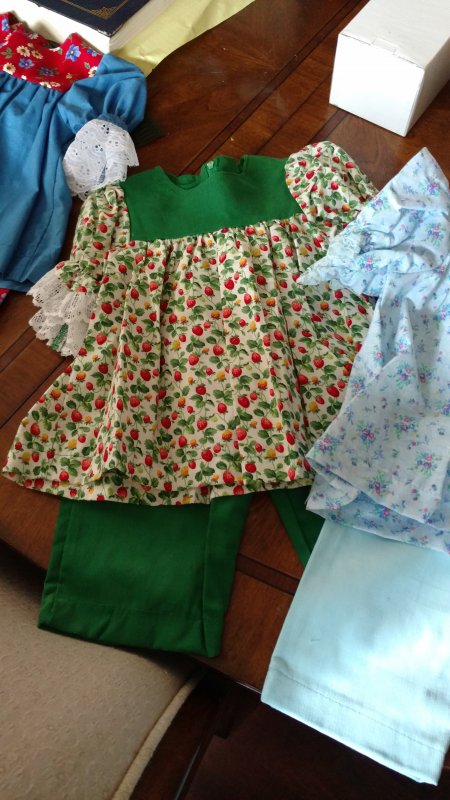 An entire box of little girls dresses that are already cut out and pinned together and just need to be sewn. She's also sending me a box of cullottes, and one of nightgowns and sleepwear, and other projects she had started but not completed. She calls me her "finisher."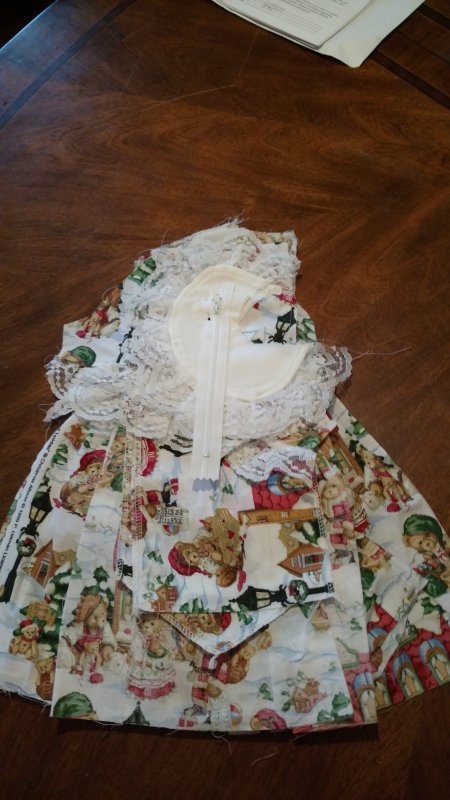 Thread, thread, and more thread...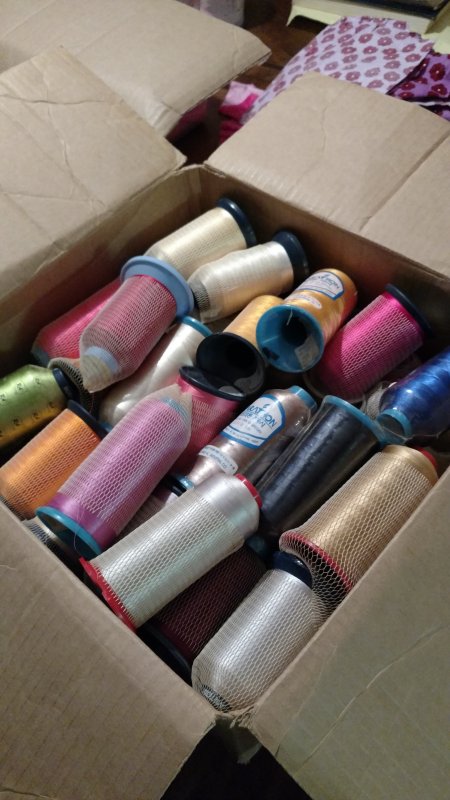 Material in all sizes and colors: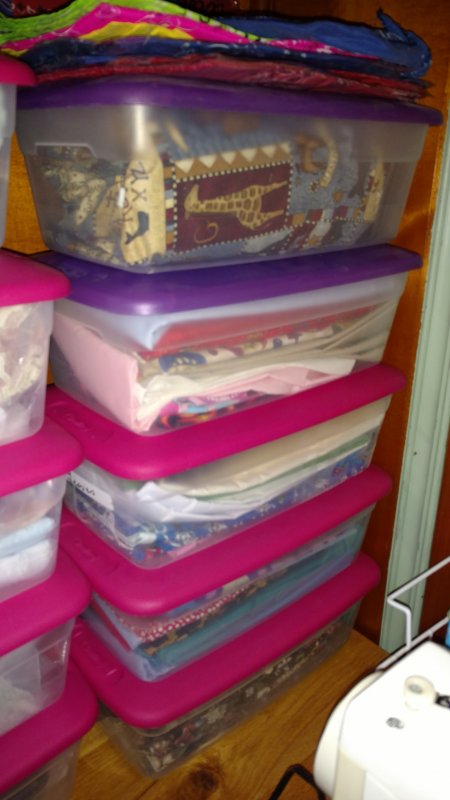 Patterns: (2 large file cabinets' worth coming my way...)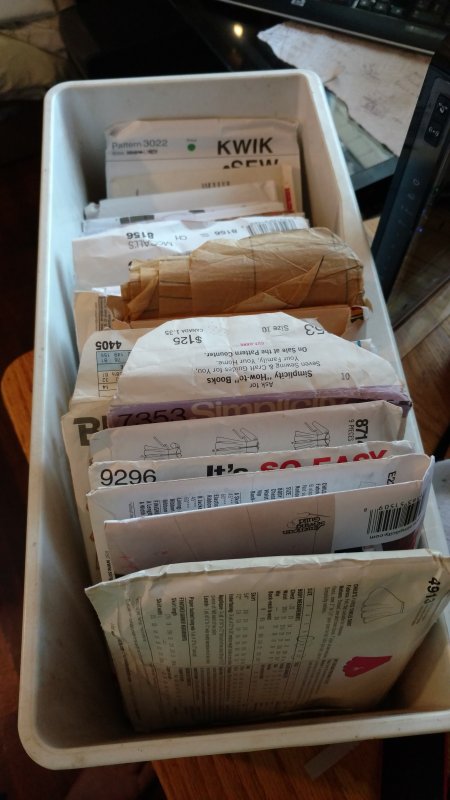 Lace, trim, bows, elastic (zippers and buttons and pins and more coming soon...)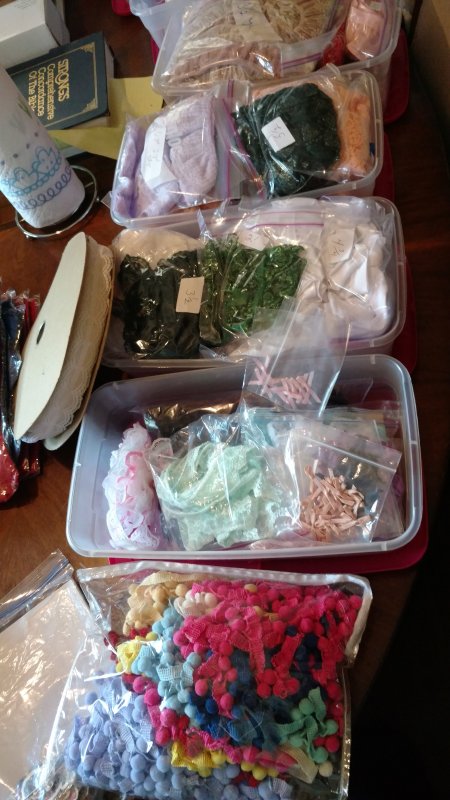 And more and more thread: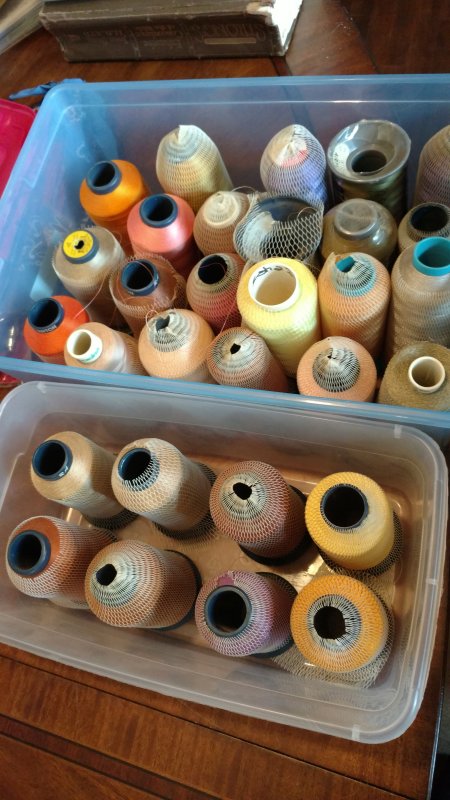 All kinds of ribbon and trim...
We had a need, and I have a willingness to learn, and friends that the Lord has provided along the way. And the Lord has been supplying every part of this new adventure including the desire.
So far all I have in the business are the many hours I've spent with this friend helping her through the years. Who knew that my very need for supplimental income would coincide with her need to clear out her vast stores of materials from her business?? Only God knew, and I thank him for providing so abundantly and clearly!

Praise God!