Almost Self-Reliant
Moderator
Joined

Jul 9, 2012
Messages

133
Reaction score

291
Points

176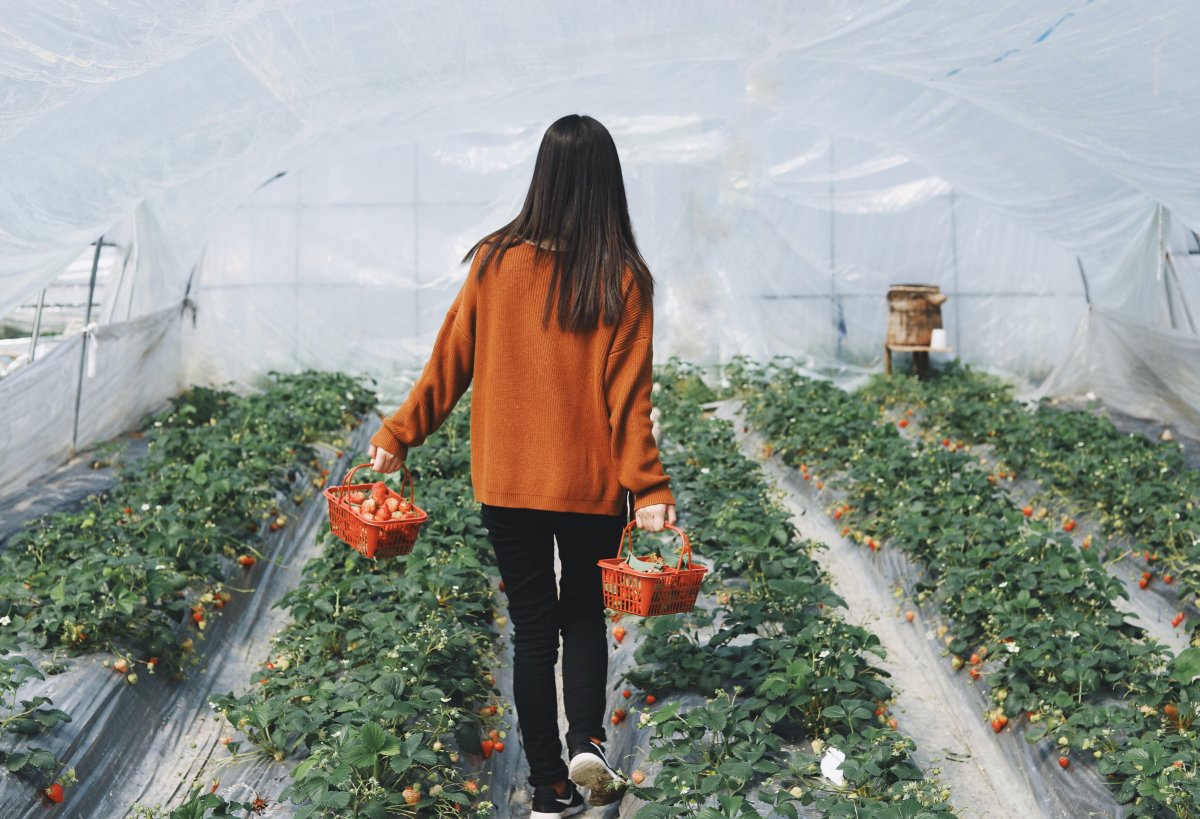 Do you need tips for growing year-round in your greenhouse? Look no further.
The purpose of greenhouses is to provide your garden plants with the ideal climate and temperature, but in climates where summers can be hot and winters can be cold, maintaining these conditions can be a challenge. In order to keep the greenhouse as consistent as possible as the seasons change, you may need to make adjustments.
Also, you may plan to cultivate cold-weather crops or tropical plants during certain parts of the year, meaning more changes and adaptations might be required as the seasons change. Thankfully, there are a number of ways to utilize your greenhouse in nearly any season at the desired temperature.
Tips for Spring and Fall Greenhouse Growing​
In terms of greenhouse growing, spring and fall will be very similar in most regions. The daytime temperatures during these times of the year are generally such that no heater or additional fan is needed for heating or cooling. Also, extra insulation is rarely needed during these seasons, and the glass or plastic provides a perfect barrier against the elements.
The greenhouse climate can be easily controlled during these seasons, but some additional adjustments may be needed to keep your plants healthy.
1. Ventilation​
For a variety of reasons, ventilation is vital to any greenhouse, no matter what the season.
Temperature Regulation​
Even when the outside temperature is cooler, if the sun is strong enough, the temperature in your greenhouse may rise quickly, overheating your plants, and even killing them.
You should add proper ventilation to your greenhouse to allow hot air to escape and cool air to flow through. Even though you won't want an open door or window in the spring or fall, a roof vent or cracked window may be needed.
Humidity Regulation​
Ventilation also regulates humidity levels in the spring and fall. The majority of garden plants will not thrive in climates with high humidity unless you only grow tropical plants.
Watering plants in a greenhouse adds water to a closed environment, preventing the evaporated water from escaping. Having adequate ventilation, on the other hand, allows an appropriate amount of water to escape, which keeps humidity levels within reasonable limits.
Carbon Dioxide​
As a greenhouse's primary purpose, ventilation also allows carbon dioxide to enter your greenhouse naturally. In order for plants to survive, they need carbon dioxide to carry out photosynthesis. Photosynthesis is the process of converting carbon dioxide, sunlight, and water into glucose.
Your plants cannot obtain the carbon dioxide they need to live and grow if a greenhouse is completely sealed off from the outside world.
2. Heating at Night​
In some regions, spring and fall nights can still reach freezing temperatures, especially the farther north you go on the map. You should, therefore, use a thermometer in your greenhouse to monitor the temperature, preferably a digital one that is easy to read from your home.
A few options are available for keeping your greenhouse warm at night when the temperature begins to drop.
Heater​
A simple solution for heating your greenhouse at night is to run a heater overnight. Greenhouse gardeners typically use gas heaters that are designed for indoor use. Their use is relatively inexpensive and they are very effective.
You can also use electric heaters, but they should be used with a temperature monitoring device to prevent them from running too long or too hot.
Water Bins​
A passive solar heat source can be created by filling containers with water at night in order to retain heat in your greenhouse.
Almost any container can be used, ranging from milk jugs to 55-gallon rain barrels. It is recommended that water-holding containers always be black to help absorb as much solar heat as possible. Spray paint can be used to make your container black if it is not already black. The water in these containers will warm up during the day when the sun is strongest.
When the sun sets and temperatures begin to cool, the water's stored heat energy will be released.
Compost​
Creating a compost bin within your greenhouse can also provide heating at night during the spring and fall seasons. When composting is done properly, temperatures range between 120 and 170 degrees Fahrenheit. The greenhouse will be kept warm by these temperatures throughout the cooler nighttime hours.
Tips for Growing in the Greenhouse in the Winter​
Almost any region faces challenges during the winter when temperatures are at their lowest. These challenges become even more prominent in regions where hard frosts occur and temperatures remain consistently low.
1. Heating​
It's obvious that heating your greenhouse in winter is one of the biggest challenges you'll face. With the outside temperature dropping, it becomes more difficult to maintain a consistently warm climate inside, even when the sun is shining.
Warming your greenhouse in the winter, however, is not impossible. It is good to note that many complex or commercial-grade greenhouses may not require any alterations to become winter-ready. However, most basic home greenhouses may need these alterations.
Gas Heater​
Among greenhouses that require heavy heating support during the cold winter months, propane, kerosene, and natural gas heaters are popular choices.
The majority of gas heaters today are safe for indoor use and have low oxygen sensors to keep the environment safe. An auto-shut-off heater with a thermostat can help you save money by automatically shutting off once the desired temperature is reached. However, if you use a gas heater regularly, keeping it full can be both time- and cost-consuming.
Electric Heater​
Another option for keeping your greenhouse warm during the winter is to use electric heaters. Having power on-site or being able to extend an extension cord to your greenhouse can make these a convenient option. You may, however, see an increase in your electric bill depending on how often you run your heater.
It is important to make sure your greenhouse heater shuts off automatically once it has reached the set temperature, as it is with gas heaters with an auto-shut-off feature.
Insulation​
It is also a good idea to add extra insulation to your greenhouse during the winter months. Insulation can be used in conjunction with a heater in order to reduce the strain on the heater. In order to insulate the top half of your greenhouse, you will need insulation that allows the sun to easily penetrate, so you can continue to receive solar heat and essential sunlight.
Bubble wrap offers a decent layer of insulation and exposure to sunlight.
In order to insulate the lower walls of your greenhouse, you have plenty of options since sunlight is usually not a problem. As well as professional insulation products, Styrofoam products, and even leaves are available. As the leaves break down, they release heat which is another reason some gardeners prefer to add leaves every year.
Water Bins/ Compost​
Water bins and compost, both discussed earlier, are also potential options for winter heating; however, they are unlikely to provide enough heat for those living in colder climates. As a supplemental heat source, these warming methods can be used in conjunction with any of the previously mentioned heating methods.
2. Daylight​
During the winter months, daylight can also be an issue due to shorter days, which means less sunlight available each day. A greenhouse-grown plant generally requires full sunlight, which is usually no problem in the summer, fall, or spring if the greenhouse is situated correctly.
In winter, however, artificial lighting must be used to compensate for the lack of sunlight.
Grow Lights​
In the winter, if your plants don't get enough sunlight for growth, health, or production, you might want to consider installing grow lights to supplement natural light. Fluorescent, high-intensity discharge, and light-emitting diode grow lights are some of the available types of lights. A grow light that emits mostly blue light is sufficient if you are growing plants that do not produce crops.
Make sure the bulbs have red and blue light if you are growing vegetables or fruits. These are commonly known as full-spectrum bulbs.
3. Watering​
Growing in a greenhouse during the winter may also pose the concern of having a reliable water source. If you usually water your greenhouse with a hose from your house, you may not be able to use this hose if temperatures stay below freezing.
Fortunately, there are other ways to ensure your plants get the water they need without having to carry water each time.
Add a Hydrant​
Installing a hydrant in or near your greenhouse is probably one of the best ways to get water to your greenhouse. The process involves the creation of a small well from which you can get water from the ground. An inexpensive hydrant may suffice if you are able to install one inside your greenhouse. A frost-free water hydrant may be the best choice if you want to install one outside your greenhouse.
Use Your Water Bins​
You can give your water bins a second purpose by also using them to water your plants if you are using them as heat generators in your greenhouse.
Gravity may be able to get water to your plants if you're using a barrel or bin that's off the ground. A small electric submersible pump can also be added to your water source to bring water up via a hose. Watering can be automated with these pumps by setting them on timers and attaching them to soaker hoses.
Store Your Hose​
The last option is to remove your traditional water hose between each use if you have been using it to water your plants for the past few months. Leaving your hose outside in the winter may lead to the water inside freezing and becoming unusable.
You can, however, keep your hose ready to use by using it only when you need to water and then draining it completely before storing it somewhere warm.
Summer Gardening in the Greenhouse?​
The summer may seem like the perfect time to plant and grow, but a greenhouse poses its own set of challenges during this time. It is typically the purpose of greenhouses to keep plants warm, but in the summer they may become too hot, potentially harming any plants inside.
1. Keeping it Cool​
The most challenging aspect of greenhouse gardening during the summer is keeping your greenhouse cool. Fortunately, there are some ways to keep your greenhouse cool.
Fans and Ventilation​
When the weather is warm, one of the easiest ways to keep your greenhouse cool is to open any windows or doors during the day. The airflow will keep the area cooler. The addition of built-in fans, louvers, or open windows can also help if you do not get enough airflow by simply opening the doors and windows.
Shade Cloth​
During the summer, greenhouses are so warm because of the strong sunlight shining through all day. A shade cloth installed on the areas where sunlight enters the greenhouse directly can help keep it cooler when the sun is strong.
A temporary shade cloth can alleviate brutally hot greenhouse conditions, even for plants that require full or partial sun.
Evaporative Cooling​
You can cool your greenhouse by using evaporative cooling, which allows water to evaporate using the available heat. The greenhouse temperature can be lowered by up to 20 degrees below the outside air temperature through this process.
The most common evaporative cooling system consists of a fan and a pad. The pad is usually made of cellulose, to which water is added. Water is blown through these pads and a cooling system is created. Simpler systems consist of a fan and water spray.
So there you have it! All the information you need to grow in a greenhouse all year round. Get started now!
Are there any tips you have for growing plants in a greenhouse? Tell us in the comments!