Joined

May 11, 2017
Messages

1,702
Reaction score

1,645
Points

217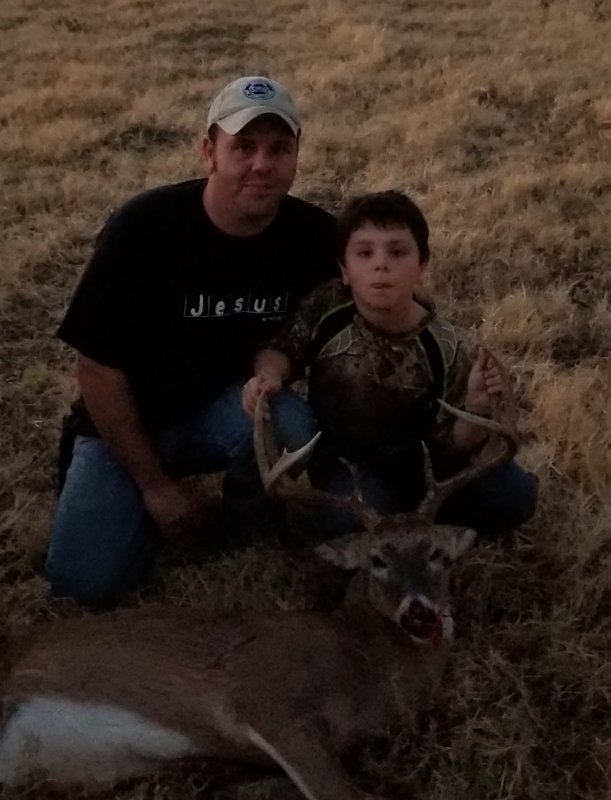 So you guys prolly seen the pic in my journal but here's the story.
We got to the land at 3:45. My father in law, his brother and son and my son and I. We were headed to our stands in a mule (atv type vehicle) when we seen a heard of wild hogs in a creek bottom. My uncle-in-law stopped the mule and took a shot but missed. He dropped my father in law, son and I off at our blind and headed out.
Being new to hunting I have been doing alot of research on buck hunting. We have always seen alot of doe but not many bucks on the property. So with a few tips from YouTube I figured I would give it a shot. While my son and his grandpa were getting settled in the blind I went to work. The wind was blowing hard from the south and that's where out stand was facing. I pulled out some doe esterous and a wick and made several trails to the center of the clearing in front of the stand by dragging the soaked wick on the ground. Some as far as 50 yards away. Then I hung the soaked wick in a tree in the center of the clearing.
We sit until 430 and 3 does come in. We watched them for about 30 mins waiting for a love struck buck but my son managed to scare them off. It's getting late and we are thinking the hunt is about over. Then a young buck walks by. Just passing threw. Too small. A few mins later 4 does come in from the north and are hanging out in the center of our clearing. OKAY maybe there's still a chance!
We are sitting super quietly now and watching with half hearted anticipation. Then I hear leaves rustling behind us. I turned real slow, just enough to see him from the corner of my eye. "There's a big ass buck coming up from the north
He quickly catches a wiff of the scent lure and is following it like a blood hound. He rounds the corner ten yards from our stand and sees the does. He starts to trot and I know hes not going to stop until he reaches the does 80 yards out.
MEEEEHHH! I grunted at him. He turns and looks me right in the eye and stops for a split second. Thats all it took. Straight shot to the heart from 15 yards. He made it about 10 yards and went down.
He's 3.5 years old and even though he's wore down from the rut he field dressed at 100 lbs. I'm hoping we'll get 50 lbs of meat for the freezer.