Joined

Jul 16, 2017
Messages

10,415
Reaction score

18,900
Points

377
Location
My Fedco order came in two weeks ago MM111, Prunus Americana rootstocks and some apple scionwood wood. I grafted self harvested peach scionwood onto prunus americana rootstocks and my daughter in law wanted to learn, so I showed her how to graft some self harvested apple scionwood and the fedco scionwood on to MM111 root stocks.
She knows me well... If you want to learn how to build a house, then build a house. Same applies to grafting 😁. Learn by doing... I got everything out for her and said have a seat. I then taught her verbally, completely hands off. Safety first though and how to handle a razor sharp grafting knife. I explained the best I could, based on my peach grafting experience the previous evening... But it was first time grafting apples for both of us. She mainly did the whip and tongue graft where she could match the rootstock and scionwood diameters. Where the scionwood was smaller diameter than the rootstock she did a cleft grafts. Basically you need to learn a few different grafts because you have to work with what you have. She did an awesome job, lots of questions, and very caring, and great attention to detail, I suddenly because quality control. But I told her, if it don't seem right, then it probably isn't right so do it again. It was fun, she's hooked and I know I'm hooked also 😁 my only regret is not ordering more rootstocks from Fedco. Because the fun was over way too soon.
10 peach in one pot, then 14 apples. I had 4 of my own rootstocks I grafted the next day. It'll be 2 weeks tomorrow since we grafted. They say it takes 10 to 14 days for the grafts to callous together. And upto 6 weeks for buds to break.
On day 11 we got a few scionwood bud breaks happening, which is pretty cool 😎 a lot of the scionwood buds are swelling and about ready to break green I don't expect 100% takes. My daughter in law is pretty excited.
Grafts that have taken so far, evidenced by scionwood geen bud breaks.
2 Esopus Spitzenburg apple
1 Granny Smith apple
1 Peach
The 4 to the left have scionwood bud breaks, above the black treecoat sealant.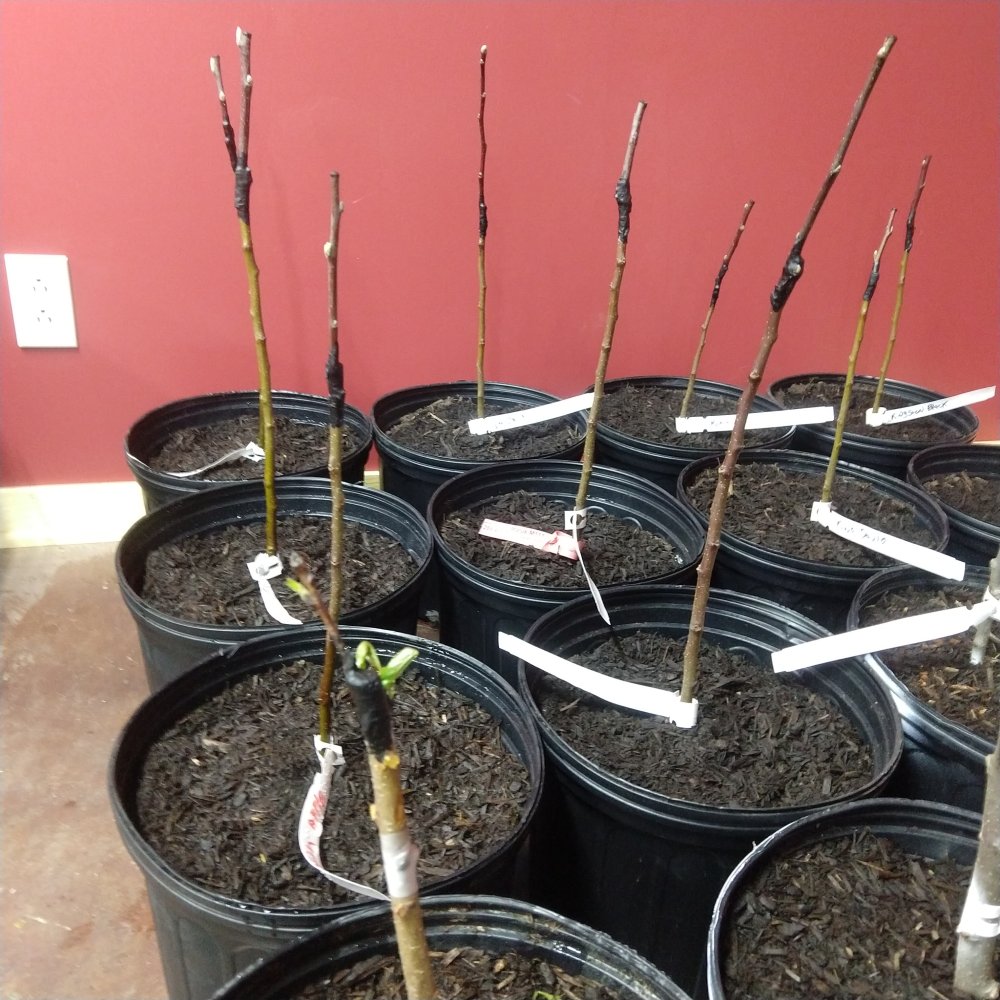 My observation... If your looking to start a orchard. Learning to grafting is almost essential and a cost effective, rewarding way to get started. You get to choose the rootstock characteristics and select the variety(s) to grow on the rootstocks. Fedco rootstocks were $3.60 each and their scionwood was $6.00 each for 8 inches (plus shipping and taxes). Each piece of their scionwood could graft 2 - 4 rootstocks based on bud distances.
Jesus is Lord and Christ 🙏❤️🇺🇸