Joined

May 14, 2017
Messages

3,266
Reaction score

3,242
Points

262
Location
I admit it. I am a trash picker. I will make sudden stops in front of random houses during trash day when I see something usable.
I pick up pallets from various businesses.
I once scored a powder coated wheel chair hand rim. A normal person would wonder why on earth would I bring that home. I don't even own a wheel chair! But, it's indestructible. I envision using it as the upper portion of a really cool garden trellis!
Buckets from the local grocer (bakery dept). I occasionally score old produce from the grocer including bushels of corn husks. I bring spent coffee grounds home from church on a regular basis. In the summer, I bring home watermelon rinds from church.
I frequently beg "stickers" from Home Depot and Lowes. These are pieces of lumber, usually less than 4' long which are used to separate bundles of wood. Perfect for miscellaneous building projects. I made a really cool set of steps for my chicken coop out of a pile of stickers.
At least one time/season, I bring home a whole truck load of appliance boxes. These are mostly used for weed suppression in either new or established garden, covering noxious weeds (poison ivy!). And, they also make good brooders for folks who don't have coop space to brood chicks.
Every fall, I go leaf scavenging. I drive through neighborhoods which offer town leaf pick up, and load my truck up with bagged leaves. Last season, I scored 2 loads: ~ 42 bags. I think my all time high was around 120 bags.
By far, my favorite place to go shopping for that which is considered to be trash by more restrained citizens is the town dump. I have scored: Lots of windows and doors (the best were used in my coop build)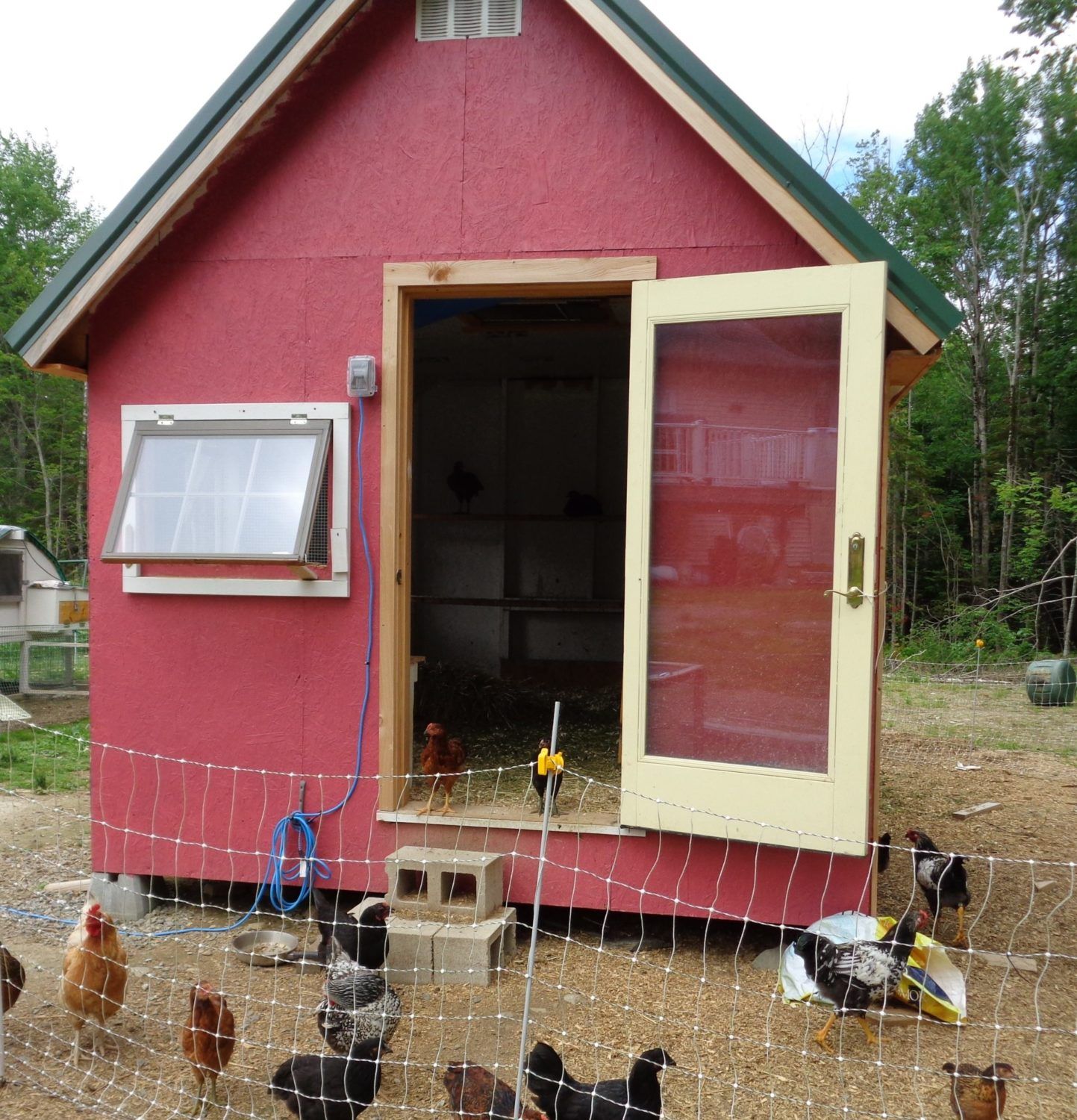 Others have been used for cold frames, in my CP coop, and there are some being stored for future projects. I also come home with plenty of slightly used, or even brand new lumber. I've collected refrigerator/freezer shelving which is great for making chick brooder pens.
I've brought home corning ware dishes and casseroles in perfect condition, lots of canning jars, some never used, glasses, pyrex ware, some beautiful cut glass pieces.
Today, Hubby and I came back with a Maple double bed frame. Excellent shape, but has a split in the foot board. Hubby says easily fixed with glue and clamps. I intend to use it to make a garden bench. I also came back with a toaster and a LARGE crock pot.
Our toaster got tossed a week ago b/c the thermostat was broken. This toaster I picked up today looks like it has seen very little use. Of course, it may not work well.
Last night, when I was making a batch of spaghetti sauce, and a batch of chili, I was lamenting that I only had one large crock pot. 2 pots will make it so much easier when I'm doing marathon cooking sessions, or even processing stuff during harvest. The pot is the same size as my old one, and the crocks should be interchangable! I envision being able to make apple sauce, or stewed tomatoes in the crock pots, and ladle the produce from the pot to jars for immediate HWB processing.
Oh, most of all, I love our town dump composting lot. Mountains of wood chips, an other mountain of leaves, several mountains of spent stable litter. I bring home multiple truck loads every spring/summer.
So, what goodies have you scored from other people's trash?????
ETA: The crock pot was a bust. The heat controls were not functional. However, the crock, and the glass lid are in fine condition. I'll keep them, and use them as inserts to my existing pot. Thus, can remove one crock full of food, and insert an other. Or can use one crock in the oven. I may go back to the dump to get the other one, and test it out before bringing it home. The toaster appears to be functioning well.
Last edited: