Joined

Jul 12, 2008
Messages

12,426
Reaction score

3,073
Points

417
Location
I thought I'd start a thread on orchards so that folks can throw ideas back and forth and maybe learn a thing or two. I know virtually bagel about orchards, though I have a small one now and have lived on land with a larger one, I know just enough to get myself in trouble and harm some trees.
Right now we have 14 apple trees, most of which were planted over 20 yrs ago and no one knows the variety. We planted 4 saplings last year my brother brought out...their names escape me. I know two of the older trees are early transparent varieties, but that's about it.
We also have 2 peach trees, both cling peaches, one yellow and one white. Last year was the first real crop we've had on them in the 20+ yrs they've been on this land. Squirrels and deer usually ate all the peaches before we ever got to see one ripen, but things have changed here and no squirrels or deer are getting to those trees now. I also pruned and fed those trees for the first time in their lives and they started producing.
Last year we had a good little crop, what we could keep from the dog and the chickens.
The same dog that kept the squirrels and deer away is also the worst predator of the fruit, sad to say. This year I'll surround the trees at ripening time with deer netting so that I can try and keep more for us.
We had to prop branches due to the weight and will have to do so again this year. Last year I froze them, but this year I'll can...the frozen peaches turned to mush when thawed. This pic was some of the unripened fruit I had to pick while still unripened to keep the animals from eating them...placed them between two sheets and they ripened pretty quickly.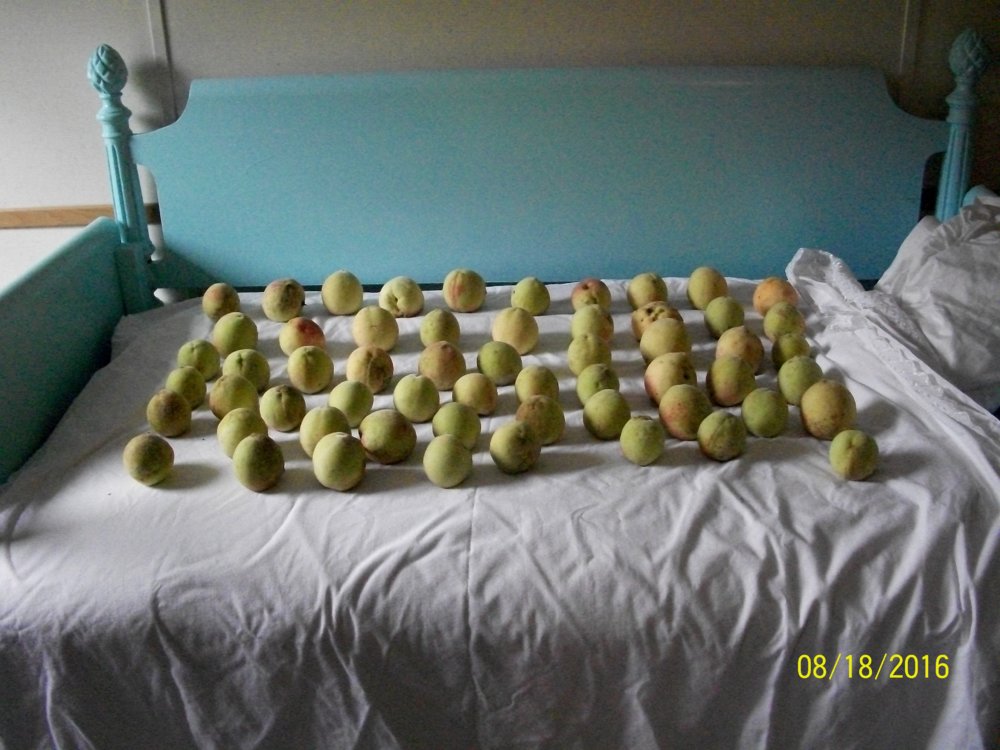 Here's a few from last year...the marker shows the relative size of the fruit.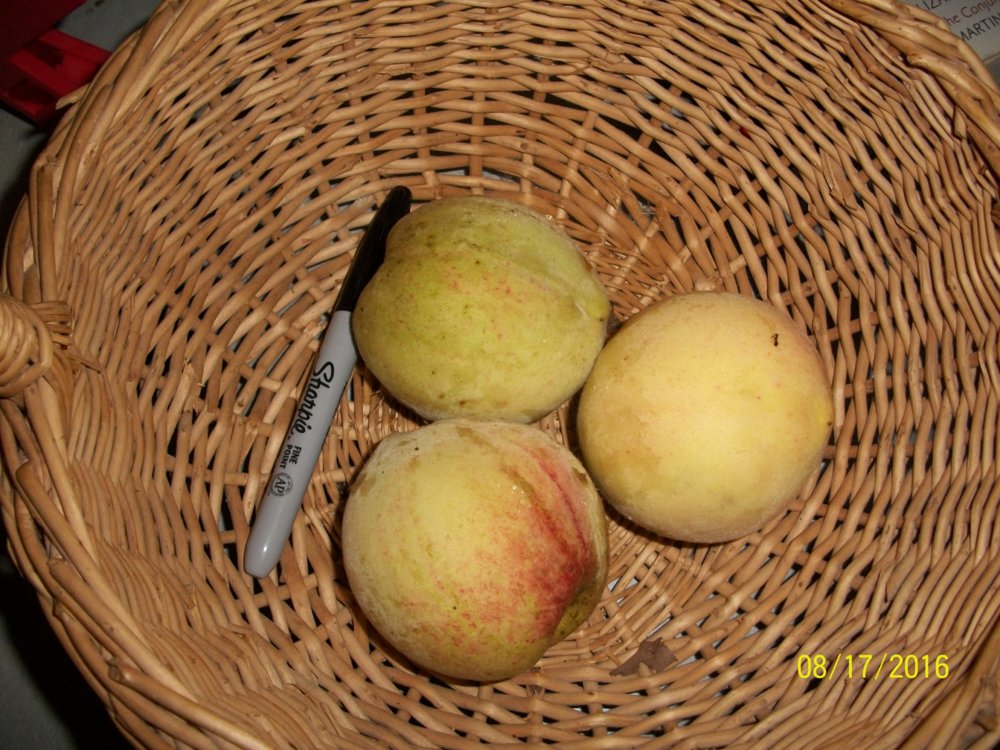 I pruned and fed the apple trees a few years ago, which had not been done in all their lives, and started getting fruit....but the squirrels stripped them before any fruit could ripen. This year I have cats on the land and I haven't seen a squirrel for a good long while, so we may just get to taste the apples on these older trees for the first time.
I made some mistakes in pruning when I did the initial pruning and these trees will likely take some long time to recover from that, if they ever do, but they are still trying to live and produce, so I'll not lose heart.
Anyone else trying to grow food in the trees? I know Lazy Gardener has trees, shrubs AND vines of fruit she is growing on her place, so I hope she'll discuss those here.