Joined

Jul 16, 2017
Messages

6,861
Reaction score

8,133
Points

317
Location
Ok maybe I shouldn't be posting this but I feel I really should... since last night while walking the dog I seen it again. It flew right over the house. It didn't make a sound. But this time I hurried back to the house and got my wife to come see it. Sure enough it was still there but was some distance away. We concluded it must be some kind of drone.
My first time I seen it. Feb 27 2017 about 8:45 PM CST I sent this text to my family.
"I just had a massively weird experience with a erratic flying triangle something.
The lights started to flicker in my truck including my headlights and I had to pull over - this is a new problem with my truck maybe the alternator is starting to go out
. When I pulled over, I noticed it in the sky flying weird and snapped this picture.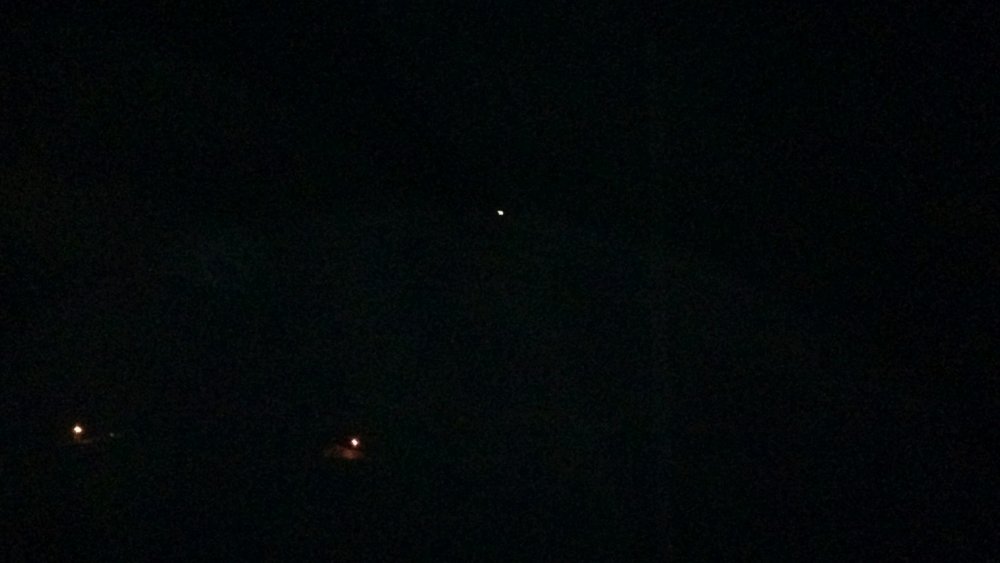 Notice the arch of whatever coming from the bottom of this weird triangle flying thing. My cell phone did not take such a good picture but it had a row of 7 white lights down each side shaped in a triangle. It zoomed off quick shortly after I snapped the picture. I've never had anything like this happen to me before - just plain werid.
Blow the picture up it's the light on the top right. Notice the visible arch coming out of it underneath it. The two lights on the bottom are from a farm in the distance. This wasn't a little flying thing either it was pretty big and I didn't notice it making any noise at all.
What you guys think some kind of drone or stealth aircraft?"
Well besides all the heckling and ET jokes... One of my son's took the cell phone picture i took and ran is through some filters and sent it back.
He said he "Brought out the exposer. Doesn't do much since the shutter speed on your phone isn't great enough to get a quality image."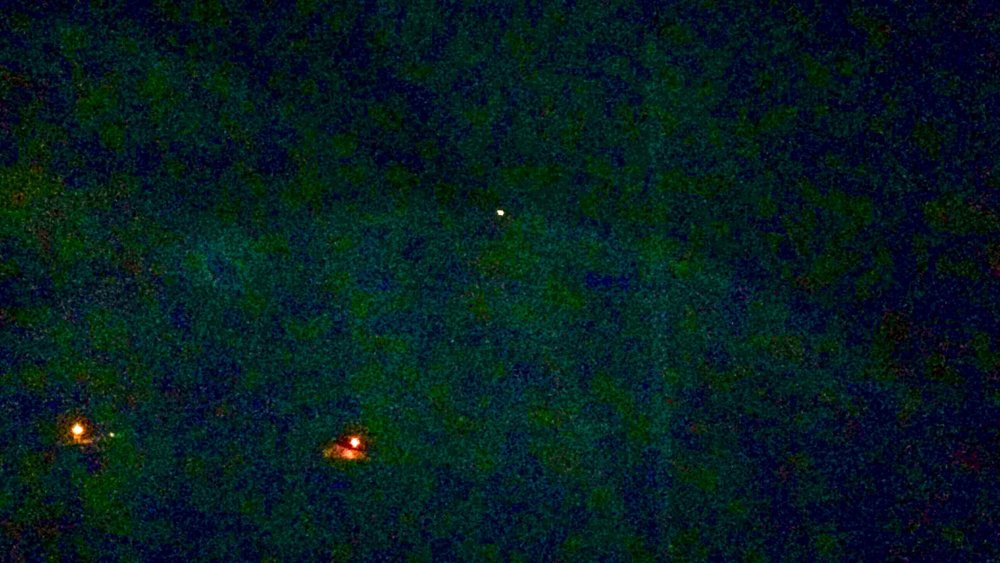 Anyways - I'm really not nutso... I seen it twice now and my wife seen it with me just last night. I don't know if I've made mention of this before... but I live in the middle of nowhere... There are no street lights and on a clear night I can actually see the milkyway. I l really like star gazing, now that I live in a place where the Stars are allowed to shine. It's really amazing how many satellites there are up there and on clear nights I can see them along with so many starts I could even begin to count. I'm getting pretty good guessing the time based on how high the little dipper is in the sky too.