Joined

Jul 12, 2008
Messages

12,633
Reaction score

3,492
Points

437
Location
I always discourage newbies to chickens from getting the production layer birds. Unless someone is experienced in poultry and practice regular culling of spent layers, they are a poor, poor choice, particularly if someone is wanting to have pet chickens.
I know the high production is attractive, but it's also what gives these gals a short life span and most often the death is preceded by suffering. The same folks who wouldn't get a meat bird due to their short life span and possible health issues will gladly buy the production birds or "rescue" them from batteries, without a single thought of what they will do when those birds burn out on laying.
Three times I've gotten small flocks of production reds from folks when they were going to get fresh infusions of POL birds of the same type and in all three flocks there were hens that should have been culled long ago when they stopped laying...externally. Because they continue to lay...internally.
A hen will continue to ovulate, though her healthy laying days are over, so while letting a good old hen scratch and peck gracefully into the sunset sounds lovely, it's hardly ever a reality of life for an old hen. Even those that are not production breeds will usually die of reasons related to her reproductive system not long after she stops laying in regular cycles.
Today I got a group of production reds on the cheap, to use for meat purposes, but among the group was a hen that needed killed immediately(the farmer was the one who transported her to my cages or I would never have taken her at all...didn't get to see this one until we got her home) and two more who will need killed within the week if I want to prevent further suffering for them. All three have massive ascites~huge abdomens~indicating either fluid around egg tumors or massive egg tumors.
Another two have vaginal prolapse that may not cause them problems if they cease to lay due to the move...neither of them are currently laying very often, judging by the vent, but if I were to hold onto them they would eventually lay more, causing them pain and suffering due to the prolapse.
I did a necropsy on the hen I killed today~she had a purple comb, massive ascites and was listless...in other words, she was dying anyway, just taking her good ol' time to do it. The farmer I bought her from was totally clueless about chickens...nice man, but clueless, so he thought she was broody...nope, she was sitting on the nests as a refuge, as the other hens would have pecked her mercilessly if she had huddled out in the coop.
She had the most massive egg tumor I'd ever seen in a hen and how she lived this long to form all that material is just a huge question. It just kept rolling out of her, the most putrid smelling mush that was pocketed all over her abdomen but most of it came from the largest sac of tissue and in the middle of that mush was the egg tumor itself. This bird had egg peritonitis in the worst way.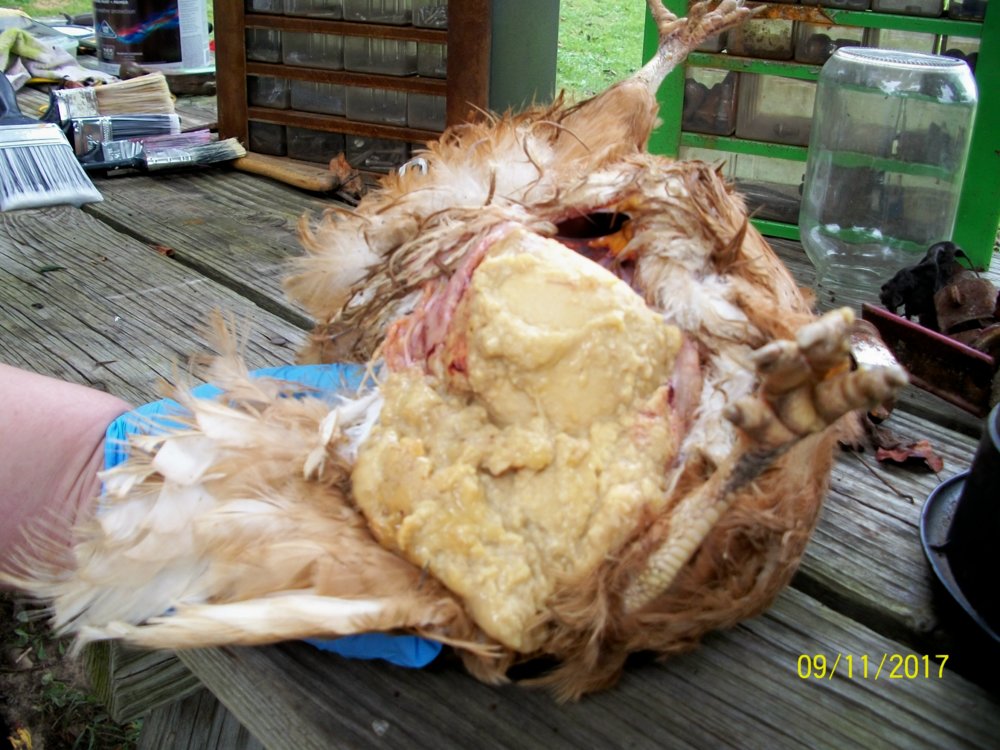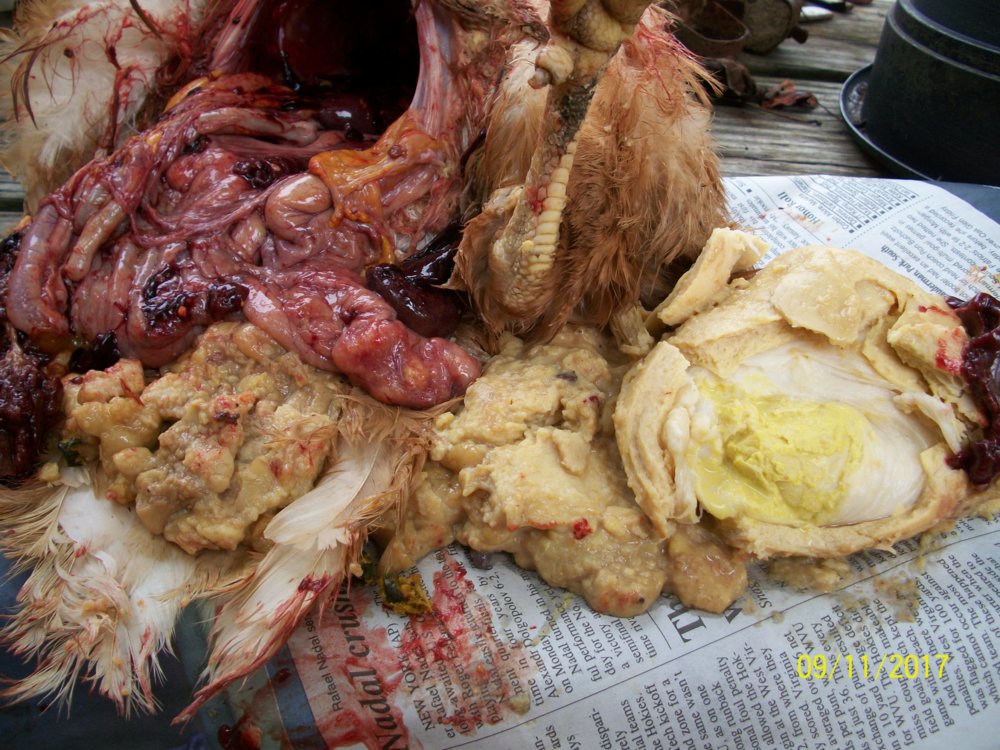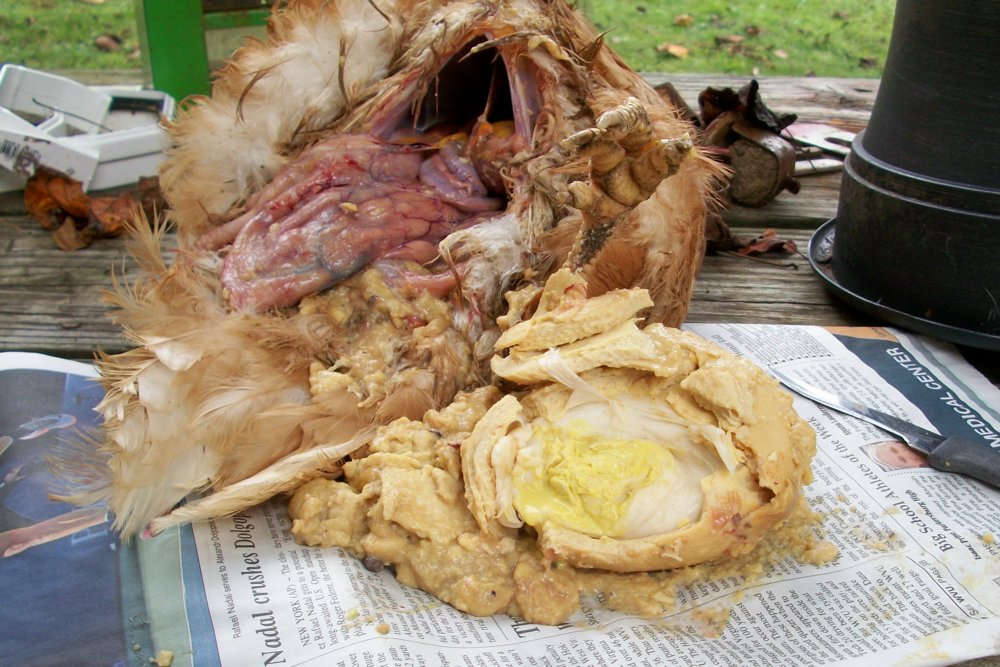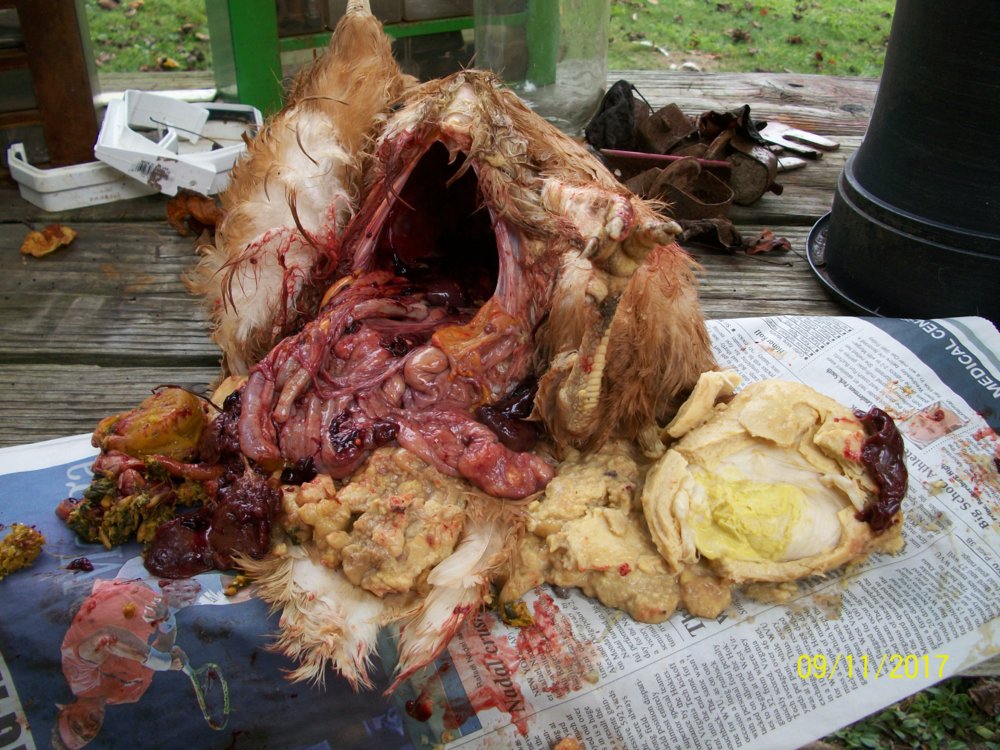 I'm not saying people shouldn't get high production birds if they are in the egg business, as long as they provide a good death for these chickens as they start to burn out or warn those they give or sell them to what to expect and what they should do to prevent suffering for the animal.
Most often these birds die after a lingering suffering due to these masses and infection, but people never open them up to find out why...usually they try to medicate, soak them in warm water to help relieve them of being "egg bound", or just bring them inside until they die.
These people I got these birds from said one had died recently but they didn't know why...wish I could show them these pictures.
Questions?