Joined

Jul 17, 2017
Messages

5,263
Reaction score

5,673
Points

307
Location
Next up will be a German Altbier. Alt in German means Old and Bier means Beer. So for us Americans this is a Old Beer. Although the name doesn't sound appealing on it merits, It's not that hey this beer is nasty 5 years old beer, it's that the Style is Old. So old as a matter of fact it predates the discovery of Lager yeast. Although, I don't ever recall having tasted an Altbier and even finding a altbier here in the US might be very difficult. But on my quest to understand and brew German beers, I find this style very intriguing.
Current synopsis:
Although I'm sure there are many varieties to the altbier style, two primary distinctive varieties exist that sparked my interest. Northern German and Düsseldorf of the lower lower Rhine region.
The current production of altbier for all of German has significantly declined from it's hayday, to less than 5% of all beer styles produced annually. However in the town of Düsseldorf there are a few pubs that produce only one beer exclusively. One pub produces exclusively altbier, with the exact same recipe they have brewed for over 800 years. It's my understanding that they roll a wooden barrel out of the cellar through the pub and tap it with a simple faucet. They serve steins from the gravity fed faucet.
This experience is explained in one of the books I have (Brewing Classic Styles) see attached pic. What a way to make a living... Why can't I have a job like this? Drink beers from all over the world and write a book or two
.
As I read the snippet, and the following recipe, it sounds Devine. That is until I read the IBU of 45. IBU = international bitter unit, is a measurement of how bitter the beer is. Good Lord man, that's way off the chart for what I would consider a drinkable beer. I prefer an IBU of around 10 to 12 with an absolute maximum of 20 and even at 20 I don't even want a second swallow unless I find some other quality that interests me. But I usually pour the beer out.
If there is one thing I learned about German beers so far, is that Munich and Pilsen base malts, in varying precentages, make up most of the grain bill and the use of German Noble Hops in varying quantities are used exclusively. The four varieties of the four noble hops are, Hallertau, Saaz, Spalt, and Tettnang. So for me, when I see a German beer recipe if it doesn't contain both Munich and Pilsen base malts and at least one of the 4 German noble hops, I immediately question it's authenticity.
This Cowboy Altbrier recipe with it's use of Magnum high alpha acid hops, is highly suspect to me. It may make an absolutely Devine beer for a "hop head" but I'm not a one of those hop goblins.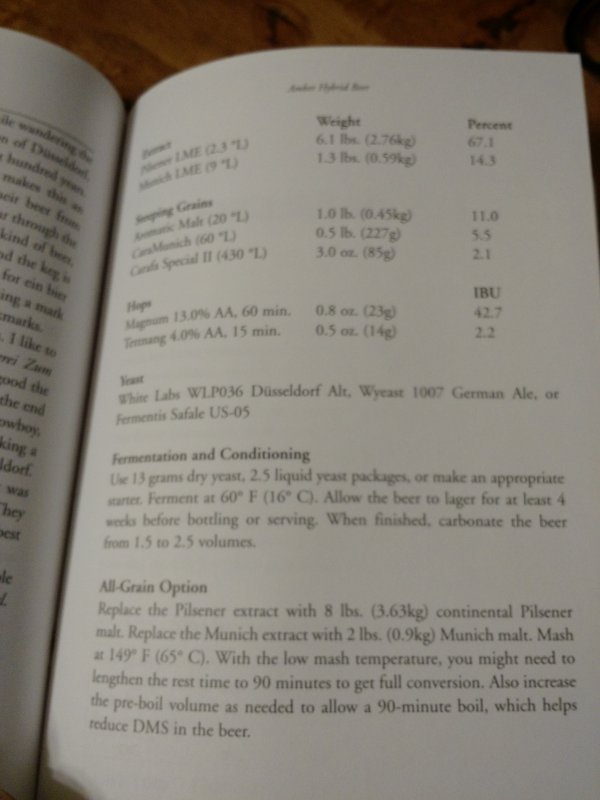 Also, the use of Liquid Malt Extract (LME) is something I simply do not like to brew with anymore. It's so difficult to work with... It goes straight to the bottom of the kettle where it's easily scorched if you don't turn off the flame under the kettle and stir until your arm falls off. It's about the consistancy of molasses in January and next to impossible to get all of it out of the jar even with piping hot water. So if I did a little tweaking I think I "might could" brew an acceptable (to me) Düsseldorf Altbrier.
It's also interesting to note the author's difficulty with the use of hops to brew a representative Düsseldorf Altbrier he enjoyed so much.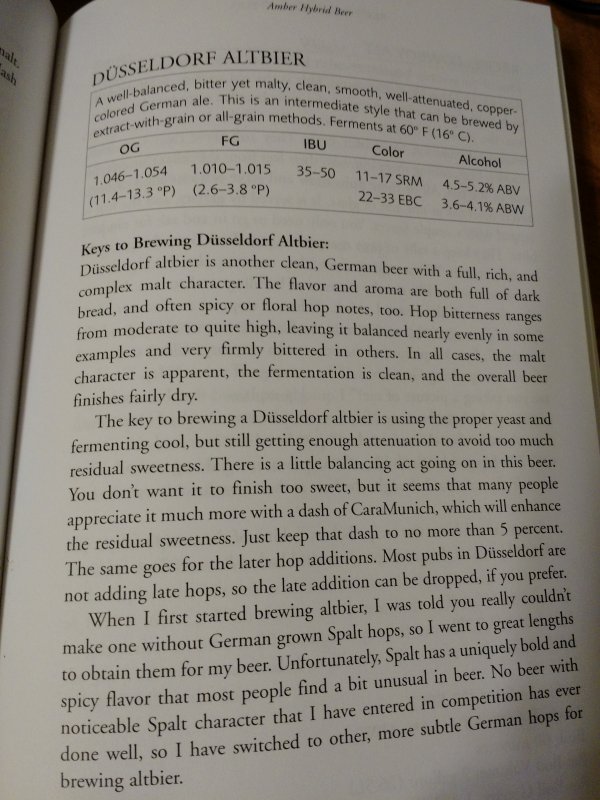 Last edited: