Joined

Jul 16, 2017
Messages

6,861
Reaction score

8,133
Points

317
Location
I build (by hand) high quality custom neck through stereo & mono two pup electric bass guitars. i'm currently set up to build 4, 5, 6 & 8 strings fretless or fretted, solid or semi hollow. But if your looking for a 12er or double neck, I'm game.
My necks and bodies are shaped and weighted to fit the owner for ultimate playability and a comfortable ride.
Every guitar I build comes with a lifetime warranty (my lifetime) and a free annual setup and inspection performed by me in my shop.
I build using only top shelf componets and wood I harvest and cut on my own sawmill. I stand behind my work 100%. Let's just say... My guitars are not made in China. They are the real deal. But this is not my guitar, it's yours and sculpted just for you and only you.
If your in the market for a new bass guitar, give me a shout and let's talk. I'm sure we will have a interesting conversation even if you don't end up buying a custom made guitar from me...
A few examples of guitars built.
Sold body flat top wild black cherry and hard maple sap wood 5 peice laminated neck. Strung with roto sounds and with it's hand made imported from England overwound "firebucker" pups this bass has the punch and growl that makes you stand out from the crowd. Her owner came to me and asked for a bass with a attitude. I delivered what I thought was a monster but her owner has named her Autumn because she's plays so smooth and is beautiful sounding but yet can jump up with a big attitude when he desires. I hand selected the wood that went into this guitar for tonal quailites and it really shines through when you plug this one in.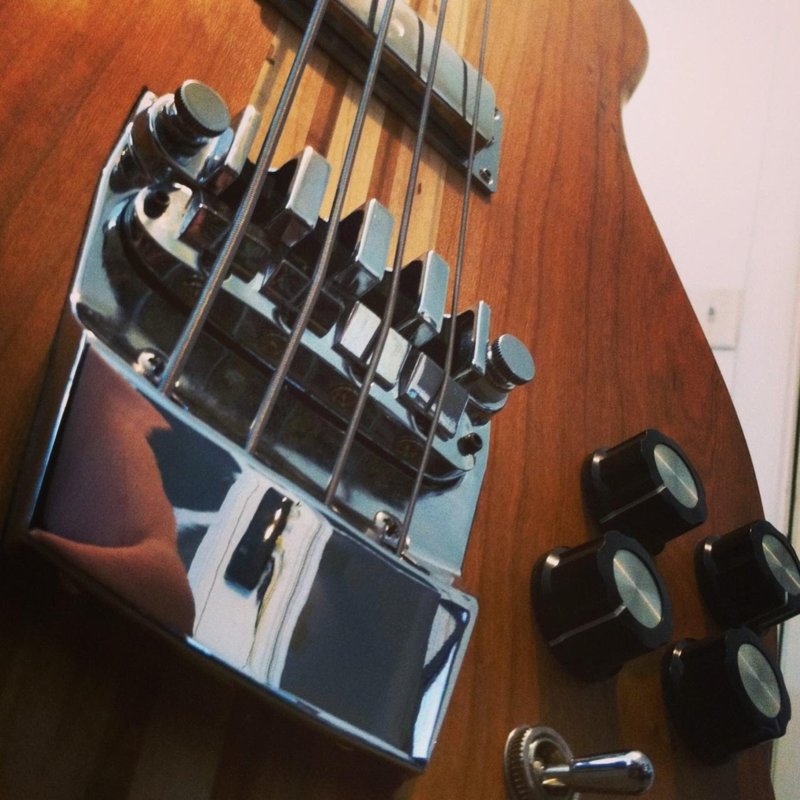 8 string double octave Ulta Thin 1" thick carved top and back semi hollow neck through. Custom made with figured hard maple sap and heart tone wood. I made this for a very short up and coming professional female bassist with very small hands. She wanted a bass to help fill in missing "harmonics" from her current three member band. Unlike store bought 8 string double octave basses, each of the 8 strings have their own saddle and are intonated individually. Owner said "you knocked it out of the park!" Although orginally intended to be a double octave - she likes to tune it in thirds to help fill in for the missing rhythm guitar in her current band.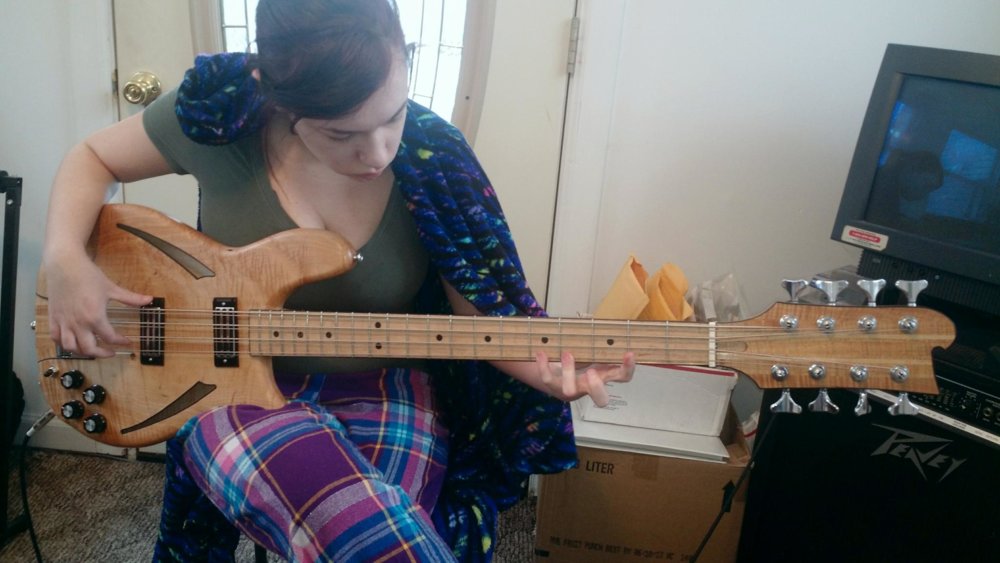 I'll try and dig up some more pictures - if I can find them.
Last edited: