Joined

Jul 11, 2008
Messages

12,774
Reaction score

3,926
Points

437
Location
The unsung hero of every farm and homestead, the multipurpose, courageous and loyal farm dog! Whether they be LGDs or just family dogs that work for a living, they spend each day keeping the land safe from intruders and predators, while also providing good and sweet companionship.
I couldn't keep chickens where I live without them, be they free ranged or not, due to the thousands of acres of woodland surrounding our land. Those woods have the usual suspects in abundance, ranging from coon, fox, coyote and bobcat clear on up to black bear. Then there is the stray dog, a recurring problem out here in the country, where people think it's great to drive out here and dump off dogs they don't want.
I have two, one is just a Lab/Border Collie mutt that I've had for 10 yrs and he is one great dog. He has worked with partners or alone and either way he stands up to coyotes, bear and bobcat and keeps his flock safe. He grows quite attached to his chickens and worries himself sick when one dies...if I don't remove the carcass, he will spend days trying to get that chick or chicken back in the coop, sleeping with it, carrying it and pacing back and forth. It's really sad to watch, so now I take them far away from his boundary so he can't stress over them.
The other will be 2 yrs old in July, a mix of Anatolian/Maremma/Great Pyr and has the potential to be a great dog as well....since he has come, we no longer have deer and squirrels stealing our peaches. Now it's just him stealing them!
Ben will have written a great story by the time he's gotten Jake's age, as he has a very quirky and cute personality.
Took pics of them lounging yesterday....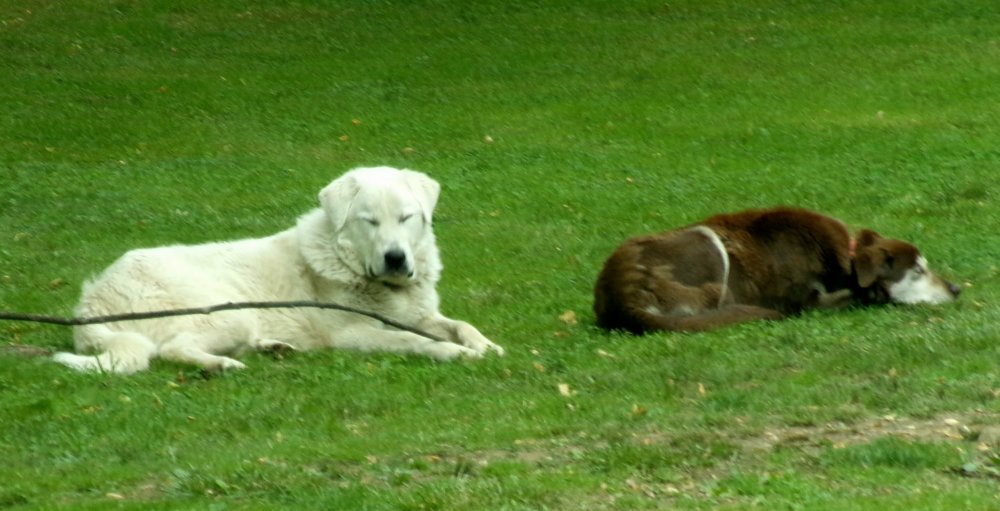 This is a thread to tell farm dog stories....how they work, what quirks they have, how you train them to do the job, and just to tell their story.
​